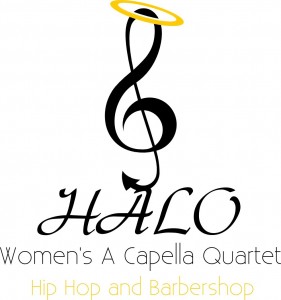 Harmony's African-American Legacy Organization, HALO, was founded by the first quartet of African-American singers to compete on the international contest stage of any of the major barbershop organizations. Having broken significant social ground in the barbershop community, under the artistic direction of the quartet members, HALO seeks to lead a transformative movement of Community Music Therapy in which barbershop singing (and listening) serves as a metaphorical model by which we as a diverse people in one nation can learn to heal century-old wounds. We can lead community groups in this initiative to utilize the singing and active listening experience of barbershop music as a framework in which the people of America can learn to engage in constructive dialogue concerning socio-political issues—especially those pertaining to race.
     These community-oriented therapeutic interventions have been developed by Artistic Directors Shana Oshiro, MT-BC (Music Therapist-Board Certified) and Niambi Powell, LCSW-C (Licensed Certified Social Worker-Clinical). Intervention programming is designed to suit the individual needs of the specific communities we would serve. Fees would be arranged according to the extent of programming desired by the engaging community and available resources for investment to cover the cost of services rendered and for the purpose of supporting the growth of the organization as a 501c3 non-profit.

     The history of racial exclusion in the barbershop community was a reflection of the reality that manifested in society at that stage of our cultural evolution in America. HALO believes that it can be a unique change agent, by which the barbershop community and the nation as a whole can press forward toward becoming a truly united people.  As we utilize and engage in the unique style of harmonic progression in barbershop singing to guide our discourse as well as the phenomenon of social bonding and trust that group singing facilitates, we can invest our energy in a difficult process of healing, forgiveness, reconciliation, and resolutions for peace.