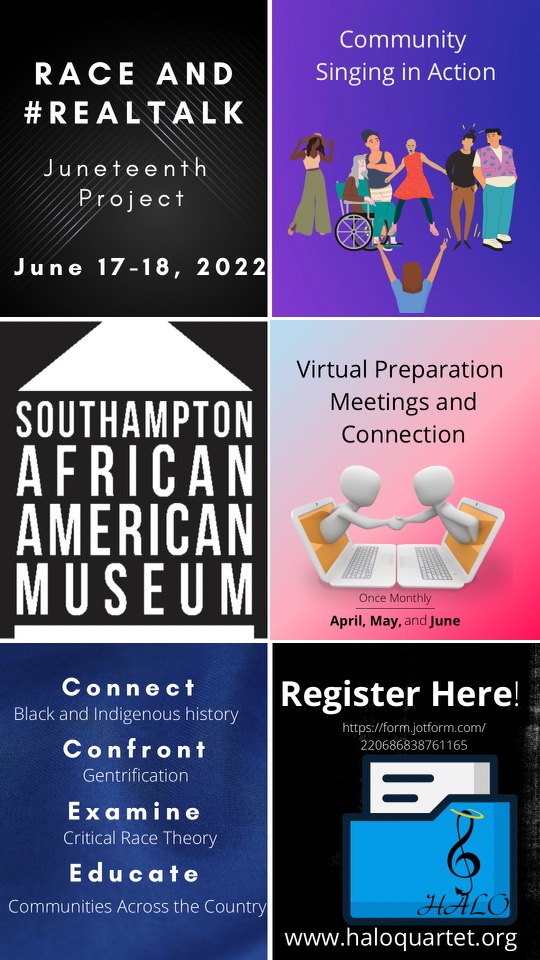 Hey, #barberfam friends and followers! We are excited to share that HALO will present a Race and #RealTalk program honoring #Juneteenth, sponsored by the Southampton African American Museum– a historic Black barbershop in the community. We invite you to participate in this program, where we will connect the subjects of Black and Indigenous Shinnecock history to issues of gentrification and other racist systems, underscoring the need for everyone in this country to examine critical race theory as a means to change course and dismantle these systems in nationally and at the micro level in every community.
Partiipants will share in education of how systemic racism impacts society at the more micro level, indicating what action steps leaders and citizens need to take to influence meaningful changes. Through this process, we will co-create a community experience of learning, action, and fellowship in music and togetherness.
Via Zoom, we will discuss assigned materials and prepare a song in the barbershop style in monthly meetings leading up to program: April, May, June (exact dates TBD). We will also engage with weekly prompts on social media between sessions in a private group.
Finally, in person we will gather June 17 in Southampton to connect with one another, discuss the materials, and rehearse the program. The presentation will take place at the SAAM June 18, open to the public.
There is no fee required to participate in this program! We will help participants with selecting lodging places as needed. Donations to HALO, Incorporated from participants and supporters are certainly welcome to contribute to our continued work as well as any financial assistance participants might require to attend the program presentation. Donations can be made via PayPal Charities: paypal.com/us/fundraiser/charity/2728016
Join us!! Register here: https://form.jotform.com/220686838761165