Hi, friends!! Well we know we're late by a lot since we've had so much happen over the last two months… but now that our marathon is at a resting point, we just want to share the amazing experiences we've had.
HALO for the Holidays!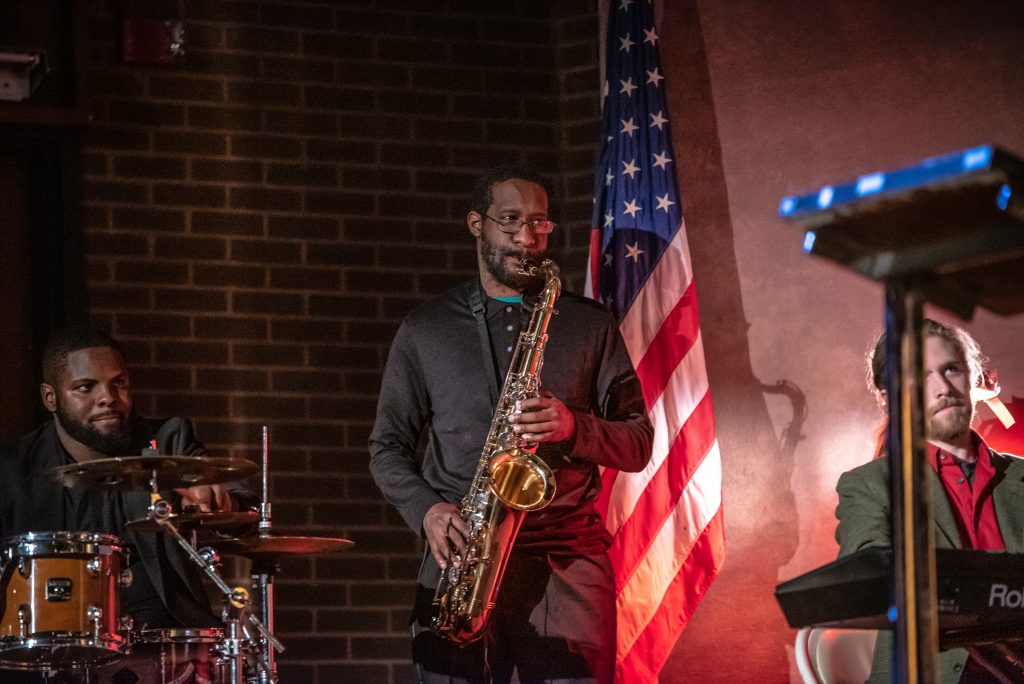 We enjoyed giving a terrific show of barbershop, holiday songs, and the presentation we worked on with the Race and #RealTalk ensemble.
We shared the stage with our fabulous sponsor and co-host Shane Riggs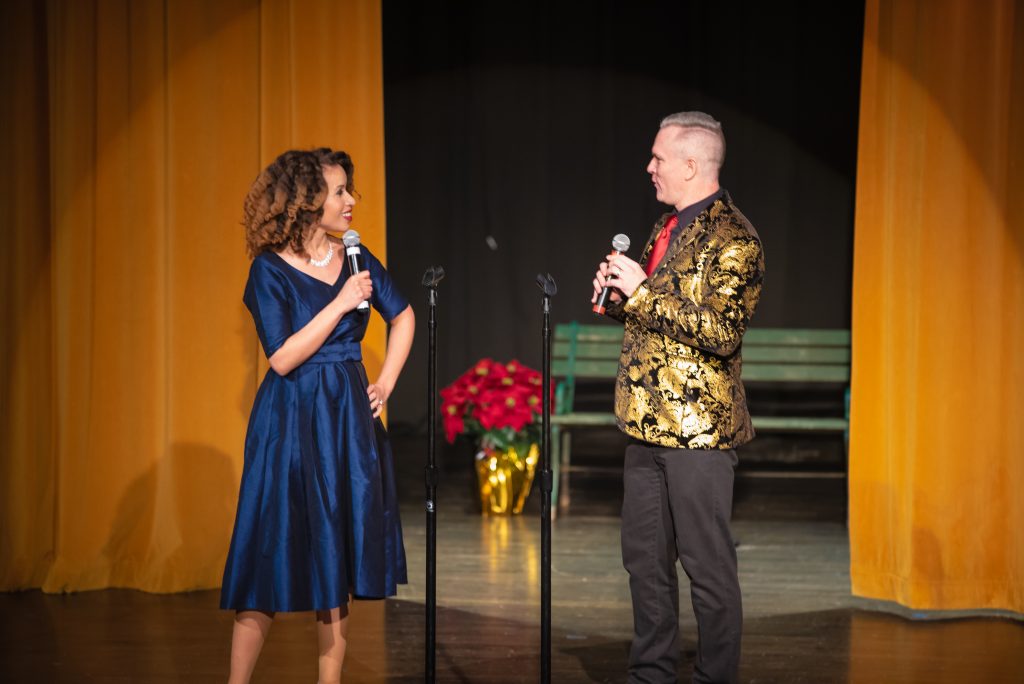 of Allegany and set the scene to debut our new "brother" quartet, HNSY! (Sound it out 😉 ) We were also graced with the awesome and uplifting presence of Debra Lynn, our wonderful coach and sister of soul, who shared two of her original compositions on the program. It was so neat to showcase the music we love to make together and show out a little with special solos for each of us, with a very talented back line of instrumentalists.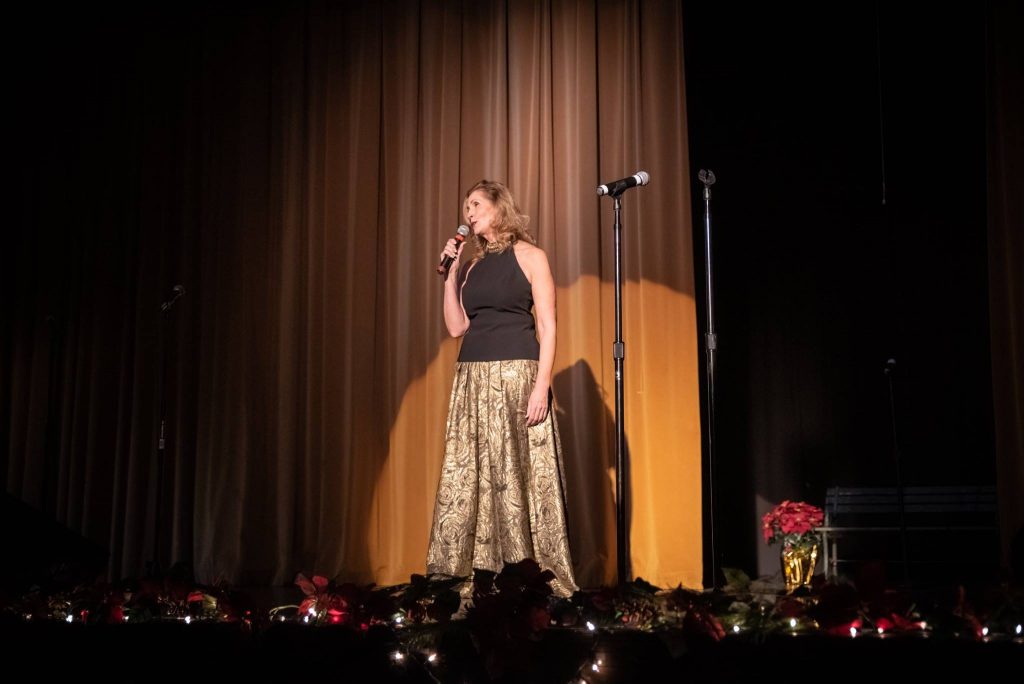 Our ensemble did a fine job bringing our #RealTalk discussions to light for a new audience and community. You may recall from our previous posts the challenge we faced in trying to really connect to the issues and conversation there is to be had about racism, as the experiences of others were beyond some of our immediate reach. We then co-created the vision of our individual stories intersecting with one another, all "under the affluence" of a modern-day Scrooge narrative. In the crossfires of our respective "carols," we discover how many of us are in the same struggle for peace within ourselves, and consequently with one another– both in spite and because of race. Our final chorus of "Let There Be Peace on Earth" sent the audience away with our own sense of hope that we'll find a higher ground for our community and our country.
Honoring Dr. Martin Luther King through Race and #RealTalk
We were blessed this past January with two opportunities to use our program of Race and #RealTalk as an instrument to continue working toward the dream Dr. Martin Luther King inspired Americans with decades ago. As far as we've come and as far as we have to go as a country when it comes to our struggle with racism and the precedent of exclusion, marginalization and injustice it set for this country at its inception– the investment other communities have in taking more strides to equality is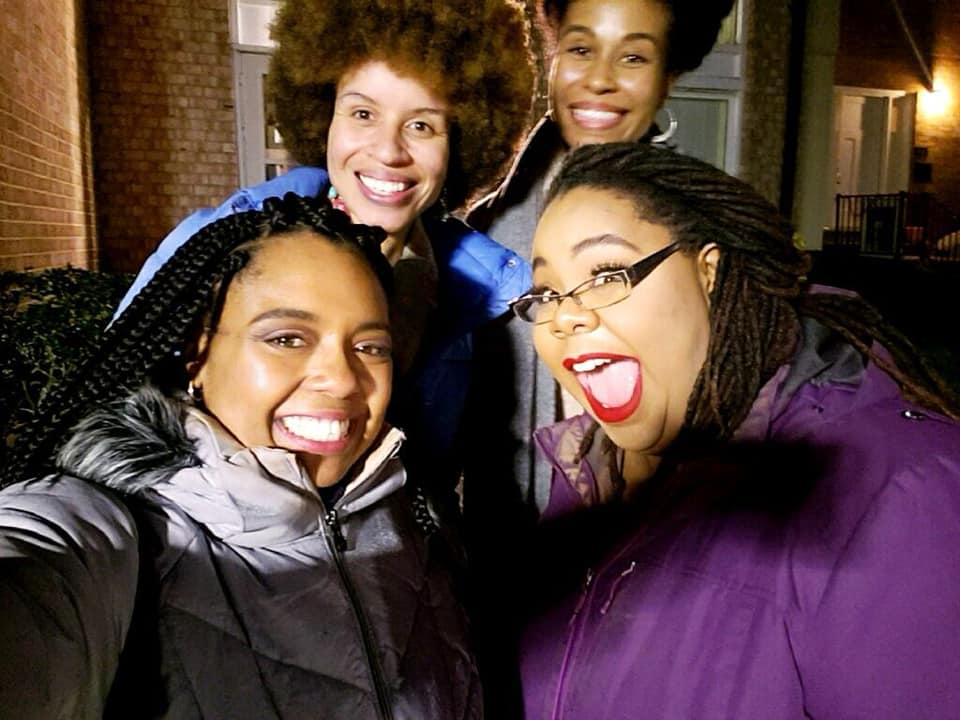 truly uplifting. We hosted our second two hour workshop with Loudoun County Public Schools for their MSAAC (Minority Student Academic Advisory Committee) MLK session. And since Jasmine couldn't come to town, we were super excited to have Ashley Conway– one of the first Halo's– cover our bass!
Then, on Martin Luther King Day, we presented a Race and #RealTalk workshop at Shenandoah University, which was attended by about 120 students, faculty, and community members!
The audience engaged in conversation and barbershop singing, discovering the start of a journey in using barbershop to scaffold these difficult conversations our nation needs to have in new ways that connect us, rather than divide us. Our Race and #RealTalk ensemble also offered a presentation, sharing our song of "Let There Be Peace on Earth," with a discussion of our past season's process in which we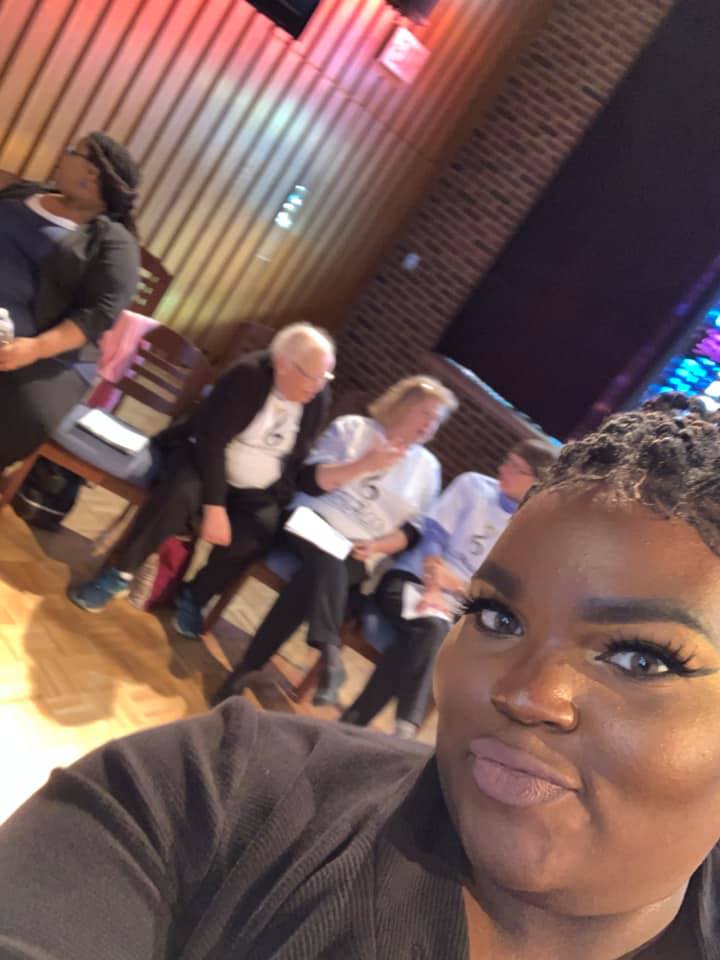 learned to listen and look for the realities beyond our own to understand how the structures of systemic racism separate us socially, but connect us in similarity of circumstances. The day was fun and meaningful.
And last, but not least– HALO was thrilled to be featured on the Heritage Show for the Barbershop Harmony Society's Midwinter Contest and Convention, at the one and only Grand Ole Opry! We shared the stage with incredible medalist BHS quartets, as well as with the Fisk Jubilee Singers and the legendary Fairfield Four! Not only did we get to sing on this historic stage of renowned musicians, we got to share our custom arrangement from David Wright, "Black and Blue" by Fats Waller and Andy Razaf. It was magic.
And we continued to spread our message, sharing a Race and #RealTalk presentation for Harmony University classes. We bolted to the airport after this one, but it was really neat to see the flame spread a little further…
More to come, friends. Thanks for following!