Yesterday, the ladies of HALO began the journey of implementing our vision for using the Barbershop listening and singing experience as a metaphor to guide us in having productive dialogue on issues of race relations in the United States. I imagine you're familiar with that feeling one gets when "the moment" is finally there before you, and fate is ready to test your dream. And it was time to get a glimpse into whether what seemed sound in theory and looked good on paper actually played out as hoped in reality.
We were relieved to have dispelled the first concern– attendance. Frederick isn't exactly the hottest spot of the DMV and 9 o'clock on a Sunday morning isn't the most popular meeting time for anyone, save church-goers. And they're usually in church. Nonetheless, a gathering of about 30 attendees– singers, non-singers, and a handful of beloved barbershoppers– were there, ready to dive into the experience. So we dove into a 9 am rendition of David Wright's arrangement of "I Got Rhythm" to get us all in the spirit, and off we went into the work.
We set off to explain the style of barbershop and the metaphor we hoped to serve us in this effort. Then, having shared our theory, we invited the group to join us in singing a tag– a barbershop tradition that helps break all manner of walls and ice between and among strangers by singing together. The tag we sang finishes the song which we will work on to present at the end of this particular program, "We Shall Overcome." (You may have reacted to this song choice– hold on to that for later…)
After our tag, we broke into 4 small groups. Each person was provided a worksheet with our "Who Am I?" exercise, whereby everyone identified and shared a handful of basic attributes (age, gender, place of birth, education, ethnicity, etc.) that contribute to their sense of identity. HALO participated as well, each of us designated to one of the groups.Each group was given a topic to discuss, with a set of prompts to guide their discussion on the topic. Upon our large group reflection, it was clear that many different perspectives had intersected–even with some dissonance from time to time. But stories were shared and thoughts were provoked in some unexpected ways for several of the participants– including ourselves!
HALO concluded the session with our arrangement from Deke Sharon of Beyonce's "Halo," hoping to leave everyone with more of a sense of what we're striving for in this effort (even though it's not technically barbershop). Not just a love song in the Hip Hop genre, the song for us speaks to seeking insight into our interconnectedness that we might continue to be compelled to actually do the work we'll need to do to break down the walls that would "shut you out." We didn't get to share this significance with the group, but if we're doing our job right–it's resonating anyhow. And afterwards, we made hopefully not entirely too much noise for the church service in Frederick Presbyterian's sanctuary above us singing another tag on our way out. 
So it was a successful first session with a good experience of building rapport and testing the waters– but we've no intention of just taking it easy. Next week, we'll be diving into the essay by Ta Nahesi Coates, "The Case for Reparations." Because it's time to get real.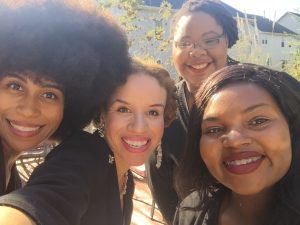 Music Video! Race and #RealTalk…Keepin' It Realllll (Cuz we silly)