Hi, friends and followers! We have had so many incredible experiences these past couple of months, we hardly know where to begin… let's pick up where we left off!
On June 30, we finally shared our Race and #RealTalk Concert program with the community. Many weeks of having tough discussions, processing complex information, perspectives and experiences while preparing music culminated into a beautiful presentation we could offer to share our message with others. 
Admittedly, we were nervous. Not because we didn't believe in what we were doing… but this was the first big step in "showing our work" to the community at large. Something that had never really been done before– the dream had certainly been born, but it's still in its infancy. We hoped those who came (and omg that people would even COME!) would see the beauty of what we have co-created and want to nurture to grow further.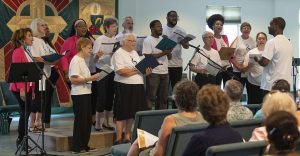 Our nerves somehow evaporated the day of, as we got everything prepped in the hall at All Saint's Church. And sure enough, as we walked out front to open the program with "Sir Duke" (arr. Rob Hopkins– one of our favorites!) we were greeted by a receptive and engaged audience that filled nearly all the seats in the hall. From start to finish, the program flowed seamlessly, representing the discussions we shared over the text of the group book and the music. The audience offered a standing ovation as we closed as a full ensemble with David Wright's arrangement of "We Shall Overcome." The reflections several people shared with us afterward affirmed that indeed we had done more than created an afternoon of "entertainment," but an experience that impacted all who were present. We felt so grateful and elated, and we are so ready to keep this program growing.
HARMONY UNIVERSITY!
Our next step was to prepare for Harmony University. With a couple of gigs and rehearsals between (not an easy feat with Jasmine now relocated to Texas!), we kept ourselves as sharp as we could to be ready to grind on our contest and show repertoire with the well-respected coaches we were so lucky to have acquired on our schedule… but really, y'all– we had no idea.
Not only was every coach obviously well-versed in the craft of Barbershop, each of them had such rich musicianship with a broad connection to other modalities of music. And all of them– Mike McGhee, Katy Dane, Tim Workman and Rob Hopkins (the man who arranged "Sir Duke!")– had an intuitive understanding of the music we were working to create together and helped us to actualize it with thorough understanding and precision while never sacrificing our own sense of artistry. We also got fantastic and game-changing coaching from Debra Lynn with her applications of Bel Canto singing to the Barbershop style– could it be more perfect for a quartet with 3 classical singers?? Really wonderful approaches for anyone looking to up their singing game, which it sure did for us.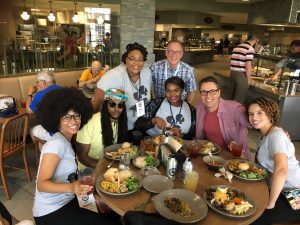 To fully describe every ounce of amazingness that we shared that week would take longer than the time we've got to tell you– and even then, it would fall short. We made great new friends, and felt truly that we were part of the Barbershop community. We had the privilege of meeting Deke Sharon and sharing thoughts about the history and future of Barbershop singing… and our place in it. The local NBC news station in Nashville came out to cover the goings on of HU and spent extra time to feature HALO in a news story about our work and breakthrough in the Barbershop world!
http://www.wsmv.com/story/38745474/harmony-university-shows-new-diversity-in-barbershop-singers
And last, but not least… HALO was given the honor of performing on the big Saturday night show! We could not believe it when Steve Scott approached us to ask if we were "interested"… bruh, you PLAYIN?!?! We were psyched. Then, our awesome and supportive coaches gave us exactly what we needed– a few tips and a lotta love– to take that stage and have the best time ever. The joy we share singing together got to the audience, too– a standing ovation for both of our songs! It was nothing short of awesome.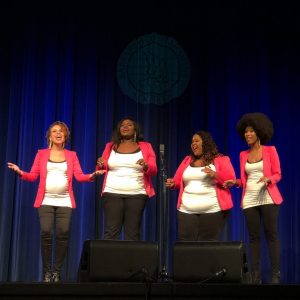 COACHING WITH THE WRIGHTS
Now we share these stories with you from the home of David and Sandi Wright, grinding once again.   It was a 14 hour trip for us from Maryland and an early flight for Jasmine from Texas. But it's worth it. Stay tuned, friends– we're uppin' our game, out to change the world! At lea
st a little…