HALO was stoked back in May when we got word that our application to be featured performers for the 2017 Ladybug Festival– "a celebration of women in music" in Wilmington, Delaware was one of the 70 out of 350+ that were accepted. To boot, the coordinator informed us that they were especially excited to have us as the first barbershop quartet ever to be featured at this festival!
With Jasmine and Nadira out of barbershop commission for the season, we were joined by Portia Pitts and Maryanne Fields- two of our organizational members for HALO at Large who were the first to help us represent our music and our mission for such a neat occasion in sharing and celebrating awesome music made by awesome women. We were down to perform 3 sets for a  show between
 large groups at the Baby Grand– fortuitous not only for the artists we got to witness making great music, but also forshelter from the oppressive July heat– and something else pretty incredible happened.
A week or so prior to the event, we'd been invited on behalf of Vocal Clave de Sol and Cabella Calloway- daughter of the legend after whom she is named- to collaborate with the group Vocal Clave de So, an organization in Cuba that teaches young women to sing and play guitar who were flown here for this event courtesy of Carlos Alejandro and Cabella Calloway. With a nicely whipped 4-part arrangement by Shana Oshiro and the gorgeous guitar accompaniment by these beautiful and gifted women, we performed "Imagine" by John Lennon. No prior rehearsal together- and it was stunning. You could feel the inspired and hopeful energy resonate through the concert hall and everyone in it. What a sheer joy it was to sing one of the most beautiful,  yet simple messages set to music as women representing two nations with a contentious history united through song. We were sailing even higher when Cabella, herself, expressed gratitude for our willingness to join them and appreciation for our music.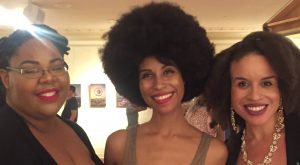 We always smack our foreheads after we leave an event, realizing we've sailed through and soaked in all of the experience with so few photos to show for it! We expect some footage and photos will circle back to us from Vocal Clave de Sol pretty soon. Still, with this quartet and the wonderful moments and endeavors of our journey– I hope and believe that the memories we share are rich enough to keep sharing them with all of you. And there's much more to come.
#StayTuned #HaloGrind