For weeks, all four of us had been totally psyched that we were preparing to take a 13 hour drive from Maryland to St. Louis, Missouri on 4th of July weekend. And hardly able to contain ourselves from telling the world, folks would ask us the occasion for our trip– so of course we told them. We were going to coach with THE one and only David Wright, the "Quincy Jones of barbershop."
          HALO with David Wright
We hope that we've got a healthy audience of those not as embedded in the barbershop "mini-verse," so we'll give you a brief background of this gentleman's professional status in music and in academia. Dr. Wright is a native of St. Louis and one of the most well-known and respected arrangers and composers of vocal music, specializing in barbershop arrangements. His study and experience with the history and development of jazz, blues, doo-wop and gospel music elevates his compositions with a stylistic authenticity that distinguishes his works from many other talented arrangers. He is also the Associate Director and former director of the Ambassadors of Harmony in St. Charles, a 150-voice male Barbershop Chorus who have won multiple gold medals at the Barbershop Harmony Society's International Chorus Contest. He is on the coaching team of many other high-caliber choruses and quartets, including the chorus Toronto Northern Lights and world-famous quartets Ambiance, Ringmasters, and Vocal Spectrum. Dr. Wright also has his Ph.D. in mathematics from Columbia University and is a professor and chair of Washington University's Department of Mathematics in St. Louis.
So as long as the list of the very cool things this man continues to accomplish and top-notch groups that have been so lucky as to soak a fraction of his genius– he and his lovely and very accomplished wife, Sandi Wright, were kind and supportive enough to extend an invitation to HALO to come and add ourselves to that list.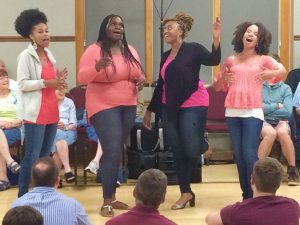 HALO Sings for Ambassadors of Harmony
DAY 1:
After an exhausting road trip that started at 1am and landed us at the Wrights' home at 2:45pm (thank God for Cracker Barrel), we got ourselves a power nap, tidied up, and hopped in the car with the Wrights to grab a bite and head to Ambassadors of Harmony's final rehearsal before the go and kill the game in Nashville at the 2016 International BHS Chorus Contest, where David said we could do a little "practice" peformance for the chorus. We were absolutely floored by the outstanding technique, work ethic, concentration, and performance caliber of this group– and realized how right David and Sandi were in saying that performing for them would likely be one of the most nerve-wracking singing experiences we would likely have, which was a healthy exercise for us, indeed. But even as intimidated as we felt by their amazing singing and choreography, these guys were so incredibly welcoming and kind to us. We only wanted to sing one song and then run away before they could throw tomatoes in our faces, but instead they roared with applause and cheers. Intimidation turned into inspiration– and of course, we obliged their demand for a second song. After that, we REALLY couldn't wait to get to work.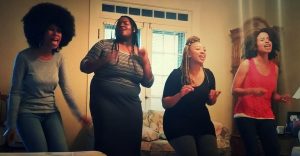 Coaching to Get our Chops Together!
#HALOgrind
DAY 2:
Jasmine and Shana strted the morning with a run through the city, and we all came together fresh and clean to start singing at 10:30. Though we knew we were in for a bit of a thrashing, we started head first with one of DW's toughest charts (the revelation of which we think we'll save for our Harmony, Inc. International contest in November). It was quite the grind, but who better to crack the whip than the arranger, himself? We worked a good 3 hours on the one song before taking a lunch break and having the pleasure of eavesdropping on another world-famous quartet the Wrights coach, Lemon Squeezy, who were there for their last coaching before they take the stage in Nashville.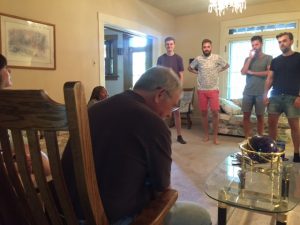 Watching and listening to their work was enlightening and inspiring, as well. Not just the impressive quality of their voices, but their commitment to the message of their songs takes the music and the performance to another level.
We then headed to the basement to work with Sandi, who is an experienced judge of presentation and performance and a Sweet Adelines Queen of Harmony, on some other tunes as we waited for her son Gene to arrive, who would continue to coach us on other songs from our contest sets. Having watched Lemon Squeezy, we internalized even more the importance of creating a unified music experience not only vocally, but also visually. He had HALO stand in a circle, trading places, performing for and at each other, to establish that sense of unity– and we effectively held each other accountable for contributing to the experience we intended to create together. Game changer.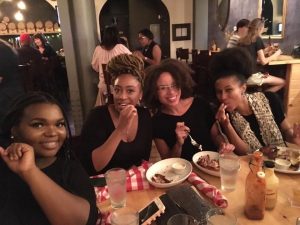 After a full day of singing and hard work, we suited up (because it seems one of the Barbershop Commandments is "Thou shalt dress alike with thy quartet in public,") and headed out to one the best barbecue joints in the city, Salt + Smoke with a bunch of the best barbershoppers in the world! Good times had by all. So much,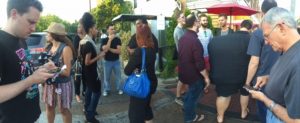 .
Pan Shot of Greatness… waiting for BBQ                                                                          Finger-Lickin' Good!
in fact, that we headed back to the Wrights' for more good times with Vocal Spectrum, Lemon Squeezy and our gracious hosts for drinks and merriment.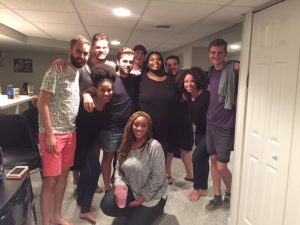 HALO, Lemon Squeezy, and Vocal Spectrum
DAY 3:
      We got an 11am start on our music with David and presentation with Gene and Sandi. We even had the pleasure of meeting Gene's lovely wife, Wendy, a hard-core Sweet Adeline, who is a total softie sweetheart, whose feedback was valuable and encouraging as well. So with a lunch break, of course, we worked until about 5pm and had dinner with the Wrights before we headed out to a surprise birthday party for Jonny Moroni, the baritone and another assistant director and member of Ambassadors of Harmony. Once the guest of honor arrived and we all shouted "SURPRISE!" we ate, talked, and bonded singing tags with some chorus guys we'd met the other night and their family members. (Our girl Supriya, whose family hosted us in Massachusetts for Area contest was there, too!) They invited us to sing for them, and once again made us feel like rock stars. Then we had the incredible pleasure of hearing Vocal Spectrum perform a number. If you haven't already, look these guys up and buy their new album! Buy ALL their albums! They are AMAZING!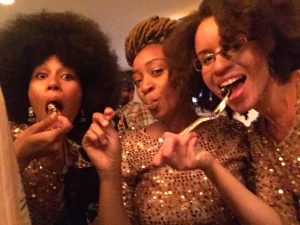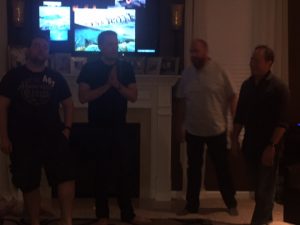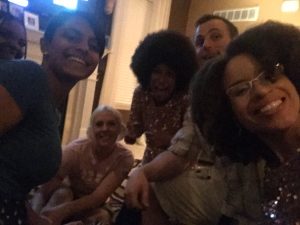 It will honestly never cease to amaze me how gracious and kind the barbershop community in St. Louis is. We feel more a part of the community at large than ever before and extend our thanks to David, Sandi, all the members of AOH, and the family members who embraced us, as well. You made us feel like family. HALO has a lot of work to do, but we got a lot of work done. Since you read to the end, here's a taste of what work with the Wrights has done for us. And with Jasmine moving back to Maryland, we can have, what? REGULAR REHEARSALS! We feel like the sky's the limit.
WE CAN'T WAIT FOR INTERNATIONAL!!!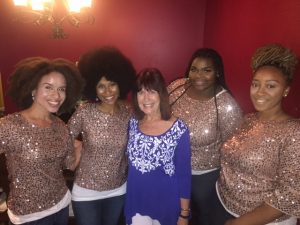 https://www.youtube.com/watch?v=9CCelp0IFeE&feature=youtu.be